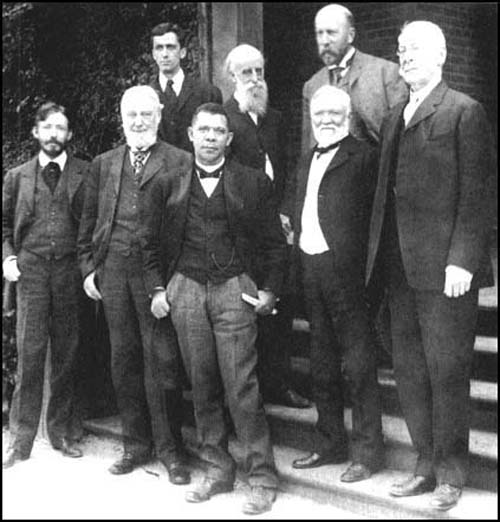 Above: Booker T. Washington and the backers of racist industrial education policies
Loyal Broadie, John Covington (
Class of '08
), is headed to Michigan to perform more corporate reform-schooler meat axe surgery on the ailing body of the state's public schools. Covington announced his decision to leave the Kansas City Superintendent's post last Wednesday afternoon, and on Friday he signed with Gov. Rick Snyder to become the manager in charge of corporatizing Michigan's poorest schools under an anti-public provision that gives
Snyder's appointed managers unprecedented power to set aside policies
put in place by publicly elected officials in cash-strapped communities. Covington's new contract will bring him more of $1.6 million
over the next four year
s:
Detroit — The new chancellor of a statewide school district for low-performing schools could earn more than $1.6 million over a four-year contract.

John Covington signed the contract Friday with the Michigan Education Achievement System that provides an $800 monthly car allowance, $10,000 in professional development funds and an option for health insurance. The contract runs through June 30, 2015.

The departing Kansas City, Mo., schools superintendent will be paid a $175,000 signing bonus as well as a $225,000 salary for his first year of employment and $325,000 for the second year.

At the end of his second year and each successive year, Covington will be eligible for an incentive payment, tied to performance, from $50,000 to $100,000. After his second year, the contract also calls for unspecified annual salary increases.

Sara Wurfel, a spokesman for Gov. Rick Snyder, said Covington would be paid with funding from a nonprofit. "Dr. Covington's salary will be covered through a 501c(3) entity with a mix of public dollars coupled with primarily foundation, individual and corporate donations," she said.. . .
Before Covington left, however, he used an old Broad script and blamed his quick departure, which had doubtless been the works for some time, on oversight from elected school board members into the Broad and Gates racist austerity measures that Covington was imposing on the schools. What remains unreported by the local media of Kansas City are the remarkable class size increases imposed just before Covington's departure. This is f
rom Parents Across America on August 20
, just days before Booker T. Covington made his sour announcement to leave Kansas City with a huge mess:
This was written by a Kansas City teacher who prefers to remain anonymous because she fears retaliation. There is no research, by the way, that indicates that paying teachers more will cause them to work harder; or be able to overcome the disadvantages to kids of being crammed into a large class. This contrasts with the voluminous research on class size, which shows that class size reduction is one of the very few ways to narrow the achievement gap and one of only four reforms cited by the Institute of Education Sciences as proven to work through rigorous evidence.

As far as we know, none of the following information has yet been reported in the local Kansas City media or the national press:

Last week at a school board meeting, Kansas City, MO School District superintendent John Covington told the school board that there is no research that supports reduced class size linked to increased student achievement. During the meeting, Covington cited the views of Bill Gates, who has minimized the importance of class size and suggested that teachers be paid more for teaching larger classes.

Covington went on to say that his staff had identified the "best" teachers in the district and would be giving them additional students. This was less than a week before school was scheduled to begin. The day after this announcement, teachers in the early grades received their class lists. Some first grade teachers were assigned 37 students per class, and some kindergarten teachers had 25-30 – compared to other teachers in the same schools, who had twenty students per class. Interestingly, some of these larger classes were staffed with brand new Teach for America recruits.

Then on August 19, Covington hosted a breakfast for eight elementary classroom teachers from about six schools out of 23, in grades 3-5th, whom he identified as "the best in the district." He did not explain how he determined that they were the best. He told them that if they were willing to take 6 to 8 additional students, he would give each of them them $10,000. This would mean they would have class sizes in the mid to upper thirties.

For the first year ever, principals were not allowed to assign teachers or kids to classes within their own buildings. Covington's staff did all of that. They decided who would teach what grade level and which kids would be assigned to each teacher. Before, this has ALWAYS been handled by each principal for his/her school.

Covington is a Broad Academy graduate, class of 2008, who closed 40% of the district's schools in June of 2010, in what he called a "Right Sizing Plan" that included laying off approximately 300 teachers.

In April of 2011, the district pink slipped 80 non-tenured teachers and hired 150 TFA trainees. The district has rehired about one fourth of the group fired in April, but have hired NO first year teachers who aren't TFA, except a few trained in shortage areas like special education, math, science, etc.

In all, the district appears to be infected with the Broad virus; and hit at the same time with a Gates-infection as well.