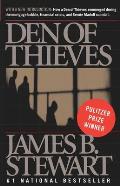 What does a corporate attorney with hundreds of millions in dirty money do when "
banned for life from working in the securities industry
?" These days he stops gambling in Wall Street casinos and puts his money on a sure thing: taxpayer dollars.
And so goes the story (told by James Stewart) of Lowell Milken, whose more infamous business partner/brother, Michael, took the fall for the family, pleaded guilty to 6 felony counts, and was sentenced to 10 years in federal prison.
With philanthro-dollars spread as thin and wide as a roll of veneer for WalMart coffee tables, the Milkens have easily bought their way back to "respectability" in an era when CEOs who did what the Milken boys did in the 80s and 90s are now routinely shuttled to new Wall Street penthouses and given obscenely-large bonuses for their efforts.
Banned as the Milken boys are, however, from today's fun and games on Wall Street, the Milken Family Foundation has teamed up with the Broad Foundation, Walton Foundation, the U. S. Department of Education, et al, to create the
Teacher Advancement Project (TAP) and National Institute for Excellence in Teaching (NIET)
, a rich hothouse for really bad education ideas that are developed by and for corporations. These bad ideas are then promoted by dangling huge sums of taxpayer dollars bundled as federal grants to states to apply for. These same dollar-hungry states use other federal grants to hire corporate foundations (Milken, Gates, etc.) to help them write the grants, and their applications are moved to the top of the heap for consideration.
States like Tennessee win the grants ($500,000,000 for TN), hire corporate officers like
Michelle Rhee's ex, Kevin Huffman
, to run the state ed department, and
money is then dispersed to the corporate idea factories like TAP
to impose teaching models, evaluation models, staffing models, and curriculum models based on the boardroom ruminations of the Billionaire Boys' Club. No risk, no glare of the cameras, no intrusive reporters asking embarrassing questions about where the money went. Education is THE new growth industry!
But what's that? Someone asking
questions about Tennessee's off-the-Milken-shelf teacher evaluation plan
? Teachers occupying their schools and threatening to boycott the off-the-McGraw-Hill-shelf tests used to evaluate them? Parents in Knoxville protesting the privatization plan for janitorial services by Broadie stooge superintendent, Jim McIntyre (
read comments below story
)? Memphis school board members
calling a time out
on the charterization of Memphis public schools? What could have gone wrong!
From WPLN
:
Tuesday, November 01st, 2011, by Blake Farmer
Republican state lawmakers are suggesting tweaks to a new teacher evaluation system that has drawn a flood of criticism from educators. Democrats say it could be too flawed to fix.


Everyone on the House Education Committee says the system needs work. Observations are taking too much time for principals, and teachers are stressing out over the 72 criteria they're asked to hit during a lesson.
A few Republican members say – at the very least – the system needs to be better explained. House Democratic Leader Craig Fitzhugh says an overhaul is in order.


"We need to put this thing off and get it right. We will not lose anything except teachers if we move forward."

Lawmakers' email inboxes have been chocked full with teachers who say they're overwhelmed and considering retirement.
At a hearing Tuesday, Education Commissioner Kevin Huffman said he's not sure all of those emails are genuine.


"I think there has been a concerted effort in a lot of places to give people talking points to criticize the system."

Huffman stands behind the evaluations but says he's open to changes, just not big ones.

While the details weren't fleshed out at the time, tougher evaluations were part of what helped Tennessee win $500 million in the Race to the Top program. Huffman says the federal Department of Education could ask for some of that money back if the system is scrapped.
Parents and teachers can call a halt to this 1%er plan. Contact your legislators, and write letters to the editor of your local paper. Occupy the General Assembly in Nashville and your local school board meetings. Create public schools that are corporate-free zones.