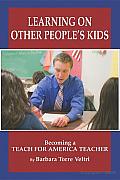 Teach for America recruits seniors from high-flying colleges and universities to put in a two-year stint learning to teach on other people's children (only 1 in 20 has any field experience under a professional teacher). Competition is stiff to get in, even as TFA spends more on recruiting than it does on training, which consists principally of four weeks of summer indoctrination prior to teaching.
Most of the upper class TFA 2-year temps are female and 70 percent are white, thus setting them apart from the children they are selected to "educate" who are all poor and almost all black. So while Caitlin and Megan pore over the graduate catalogs of Yale and Princeton during this horrible economy, tsk, they can build up their resumes for one of the prestigious professional schools (a TFAer confided that Harvard Law requires 2 years in the Peace Corps or TFA to get a perfect score for community service).
With no firsthand knowledge of the communities wherein they are pitched, and with no coursework to understand the historical or sociological contexts of American education, and with no practice teaching or methods courses, the TFA neophytes are the perfect candidates to take the corporate canned curriculum and Doug Lemov instructional recipe book and run with it, without the burden of too much empathy, understanding, or professional philosophy to get in the way. As temps, too, they are not overly concerned with job security, contracts, and benefits and retirement plans, nor do they see the need to protect collective bargaining or seniority. Plebeian concerns, to be sure, my good man.
And so it should it be no surprise that Gates and Broad, the Fishers and the Waltons, would want the TFA model to replace professional teacher preparation during this new Gilded Age. And so it shall, unless the corporatists inside and outside the federal government are sent packing.
In the new
Our Future, Our Teachers,
which was released with little fanfare by Duncan, TFA and its imitators play a central role. On top of the $185 million in bribes to design teacher education based on test scores, there is another $110 million to pay pay "for scholarships of up to $10,000 for high-achieving, final-year students attending high-quality traditional or alternative teacher preparation programs." From p. 11, with my bolds to call :
. . . .Building on the data systems established as per HEA Title II regulations, the President's Fiscal Year 2012 Budget includes a $185 million state teacher preparation reform grant program that would revamp and upgrade the existing $110 million TEACH grant program. The revised TEACH grant program, renamed the "Presidential Teaching Fellows" program, would provide formula aid to states that commit to establish rigorous systems for teacher certification and licensure and teacher preparation program accountability. The bulk of funds (a minimum of $135 million worth) would be used for scholarships of up to $10,000 for high-achieving, final-year students attending high-quality traditional or alternative teacher preparation programs. The aim is to send TEACH funds to the best programs for the best students with a priority on those with financial need.

State policies. Presidential Teaching Fellows funds would be allocated by formula to states that commit to ensuring high standards for teacher preparation and entry into the profession.
First, states would ensure that teacher certification or licensure is determined on the basis of teacher performance, as measured by a performance-based assessment or demonstrated evidence of effectiveness. Certification no longer would be based on simply passing a low-grade, paper-and-pencil test that does not indicate an ability to teach effectively in a live classroom.

Second, states would set rigorous standards for identifying top-tier and lowperforming teacher preparation programs in their state based on information that includes but is not limited to outcome data collected under HEA Title II. States would assist first, but ultimately have to withdraw approval from teacher preparation programs persistently identified as low-performing, based on three categories of outcome-based measures – student learning growth, job placement and retention, and customer satisfaction survey results.

Finally, states would approve any teacher preparation program, including non-traditional pathways, that can meet the same high teacher preparation standard for approval.
Now contrast this cheap deprofessionalization scheme with a program that Michael Winerip has found in North Carolina. Imagine what kind of professional teachers we could have if federal support went to support such programs, rather than feeding the 1-%ers.
From the NYTimes
:
DURHAM, N.C. — When Mr. Williams means business, he is not kidding around. "He's pretty quiet, pretty serious," said Ashabur Rahman, a fifth grader at Glenn Elementary School who has him for math and science.
John Williams III, 36, is not some jokey teacher. "At the start of the year, some kids said he was going to be the meanest teacher in the school," said Trajen Womack. Chelsea Parra, heard the same: "A lot of people were saying it."

Nor is he easy about giving out 1's, the top grade. "If we're joking, he doesn't say anything, but on the progress report, he'll give you a 3," Trajen said.

Still, the more time they spent with Mr. Williams, the smarter he seemed to get. In science, they made terrariums, growing rye, mustard and alfalfa. There is no running water in the trailer behind the school where Mr. Williams teaches, so he carries it in, using jugs. This week, the students will add crickets and rolly-pollies to their ecosystems.
He always calls them ladies and gentlemen, and speaks so softly that they must be quiet to hear him; even a little noise sounds loud in Mr. Williams's room.

Last week, during a lesson on common denominators, a new boy began tapping on his desk. Mr. Williams ignored it and kept teaching. The boy sat on the floor, twirled a ruler and wandered around talking to other students. Mr. Williams kept teaching. When the boy could no longer be ignored — he knocked over a chair — Mr. Williams made eye contact with a special education teacher, who took over the class. Mr. Williams went and sat by the boy.

In a voice so quiet that Citlaly Reynoso, who was sitting next to them, could not hear, he talked to the boy for several minutes. Then Mr. Williams took over the class again, and the boy pulled out a workbook and started answering questions.

Later Mr. Williams, who has spent 14 years teaching poor children, said: "I want to do everything I can to keep that child in class. If he's sitting in the principal's office, he's not learning."

In 1993, when Mr. Williams graduated from high school in Goldsboro, N.C., with an A average and a 1,320 on his SATs, he had many options, but he chose the North Carolina Teaching Fellows Program. The idea is simple: the state pays top academic students to attend a public college, and in return they spend at least four years teaching in a public school.

In the 20 years since the first fellows began teaching, the program has flourished. High school seniors selected for the program average about 1,200 on the SATs compared with a state average of 1,000. Of the 500 fellows chosen each year, about a quarter are black or Hispanic.

Mr. Williams said that once he was accepted, colleges competed for him. "They woo you like an athlete," he said. "We got the star treatment."

It is not enough for the smartest to become teachers; they have to stay teaching. Research has shown that experienced teachers perform far better than beginners. A Carolina Institute for Public Policy study by Gary T. Henry, Charles Thompson and Kevin Bastian in 2010 found that of a dozen training programs in the state, Teach for America had the best test results, with the Teaching Fellows Program second.

There is, however, a large difference in retention. Teach for American requires only a two-year commitment. After five years, 7 percent of the Teach for America participants were still at work in North Carolina, versus 73 percent of the fellows. Sixty percent of the fellows who started teaching 20 years ago still work in North Carolina public schools.

Representative David E. Price, Democrat of North Carolina, tried for years to get Congress to pass legislation using the Teaching Fellows Program as a national model, and finally succeeded a few years ago. But financing has been limited. New York, one of 12 states that won a grant, received enough money to prepare only 125 teachers over five years.

It is a pretty good bet that any program that treats teachers like star athletes is not going to last. A few months ago, as part of hundreds of millions of dollars in cuts, the North Carolina General Assembly voted to phase out the fellows program — which has a $13 million annual budget — over the next few years. (There have been reports that the House speaker, Thom Tillis, a Republican, is reconsidering; his office did not respond to several calls and e-mails.)

It may not matter. Budget cuts have been so severe, pretty soon no one is going to be able to afford to teach. Anthony White, 26, another fellow, has been a math teacher for five years at Southern High School here. Like Mr. Williams, he had his choice of jobs but chose a school that serves a poor black neighborhood, a place where he felt that his work would stand for more. "Coming up," Mr. White said, "I never had a black male math teacher."


When Mr. White started, he was making $35,000, and five years later he is still making $35,000.

It has been said before: no one goes into teaching for the money, and any glory is mighty modest.

Last spring, when Mr. Williams was named Teacher of the Week by WRAL-TV in the Raleigh-Durham area, the reporter referred to him as "a humble John Williams."

Most of the great things that teachers do are not seen by adults, and are taken for granted by children.

The new boy in Mr. Williams's class closed the workbook after a few minutes and put his head on the desk. A guidance counselor had warned Mr. Williams to be on guard; the boy's father had died the week before. When everyone filed out for recess, Mr. Williams held him back and spoke to him gently. The boy kept his back to him the entire time. When Mr. Williams told him to go play, the boy walked away backward, stopping at the bottom of a grassy hill that leads to the playground.

Mr. Williams moved up the hill a little and the boy followed, then stopped. Mr. Williams walked up a little more, the boy followed and stopped. From a distance, it looked like Mr. Williams was tugging him up the hill with an invisible rope.

Dressed in a bow tie, stylish shirt and creased pants, Mr. Williams looked thoroughly out of place on that hill. With one final tug, he got the boy to the top. For a while, the boy stood with his back to everyone, then for no apparent reason he ran off, disappearing into the crowd of excited, noisy children.

Mr. Williams made his way back down the hill slowly, so as not to trip. When he got to the bottom, he said, "Hopefully, he's out there enjoying himself."