Thousands march, 127 arrested in massive March 27 Chicago Loop protests against school closings, Emanuel dictatorship
More than 3,000 teachers, parents, students and other citizens rallies and marched against school closings in Chicago on March 27, 2013, and 129 were arrested during civil disobedience to protest the largest number of public school closings in U.S. history, according to a number of Substance reporters and other sources who were present at the events. The rally, marches, and sit-ins, are a continuation of the protests that began when the current "Chief Executive Officer" of Chicago's public schools, Barbara Byrd Bennett, announced in October 2012 that she had secured an extension of the deadline required by state law to announce the closing list for the 2013-2014 school year.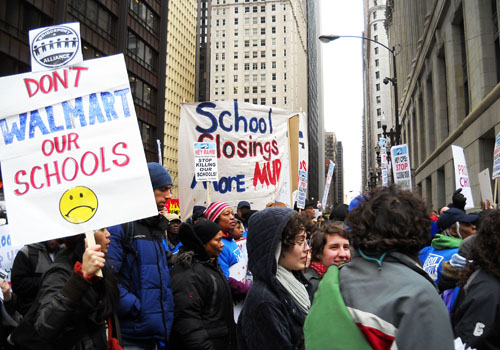 Protesters filled the block alongside Chicago's City Hall (right in the above photograph) and numbered in the thousands despite the attempt by Rahm Emanuel's out-of-town Chief of Police, Garry McCarthy, who ordered the police to downplay the size of the protest in a move reminiscent of the days when the Nixon administration was downsizing official estimates of anti-war protesters against the Vietnam War. Substance photo by Susan Zupan.
On March 27, 2013, the protests, coordinated by the Chicago Teachers Union, others unions, and a broad range of community groups and faith-based entities, began the final assault against the mayor's drive to privatize and sabotage the public schools in the nation's third largest school system.
Press reports begin below
here